Grow Your Business with a Proven Hiring
Process That Gets Repeatable Results
The Core Fit Hiring System gives you unmatched access to
America's best service workers – anytime you need to hire.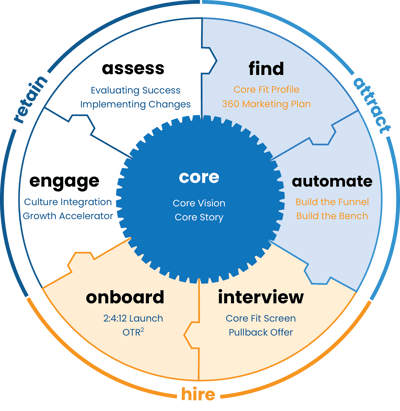 Finally, a System that
Makes Hiring the Right People
Simple & Reliable
If you operate a service business, you know highly skilled workers that are a great cultural fit are hard to come by. And it's only getting harder.
The Core Fit Hiring System puts you in control of hiring by giving you the skills to attract, hire, and retain the people you need. So you'll never have to rely on recruiters or staffing agencies again.
Whether you're searching for craftworkers, laborers, technicians, or any other kind of skilled workers, The Core Fit Hiring System gives you access to them. At any time, in any job market.
Step #1
Hiring Active Job Seekers Quickly
Discover how to cut through the noise to rapidly identify and attract the top active job seekers.
Review more applications in less time
Automate communication with candidates
Systematically manage job boards and listings
Step #2
Screening & Interviewing Applicants
With your pipeline filled with applicants, next you'll learn how to quickly and accurately screen candidates.
Get candidates to show up to interviews authentically
Save time with automated candidate screening
Master the applicant screening processes used by the biggest companies
Step #3
Attracting the Right People
Powerfully position your company in a way that attracts workers with the right values and cultural fit for your team.
Create a clear and compelling brand and vision
Find and attract the best people with the Core Fit Profile
Clearly define who your ideal candidates are so you can reach them.
Step #4
Automating Your Recruiting Efforts
Use advanced yet simple marketing techniques to make your company the place your industry's top workers want to work.
Craft a strong brand reputation that talks to your ideal candidates
Define and tell your company story to make people choose you
Build a bench of candidates you can call on at any time
Step #5
Effective Employee Referrals
Create a flywheel of talent by establishing an effective employee referral program that actually works.
Save time & money by enabling employees to recruit for you
Incentivize employees to become ambassadors for your company
Provide employees with marketing tools for promoting your team
Step #6
Filling the Recruiting Pipeline
Keep your recruiting process switched on and filled with top workers who are ready to start as soon as you need them.
Keep your job ads optimized so they always out-rank your competition
Maintain your recruiting systems so they consistently run smoothly
Capitalize on your ready-to-start bench of top candidates
Hire the Right People Faster
with Our "Done with You Services"
Applicant Tracking System Setup & Launch

Create an automated funnel to make it easy to manage all your applicants in one place.

Interview Guide Development

Ask all the right questions and get candidates to reveal their true selves with a custom-built interviewing gameplan.

Core Values, Vision & Purpose Development

Use our step-by-step formula to define your company's core identity to attract your desired candidates.

Core Story Development

Tell your company story that gets people to buy into your mission using our proven framework.

Job Ad Creation

Get a high-converting job ad written for you based on our effective marketing principles that you can reuse time and again.

360 Marketing Plan

Build a comprehensive marketing plan for your hiring process to reach your target audience.

Customized Employee Referral Program

Establish an employee referral program that inspires your team to recommend your company.

Core Fit Profile™️

Develop a crystal clear picture of your ideal candidates so you know who they are and where to find them.
A Repeatable In-House System that
is a Natural Part of Your Operations
The Core Fit Hiring System isn't your typical HR process. It's about marketing your company in a way to attract your industry's best workers. Learn it once, then use it time and again to find the exact people you need.
Over the course of 90 days, you will be privately trained
to implement The Core Fit Hiring System in your business.
Here's what you get: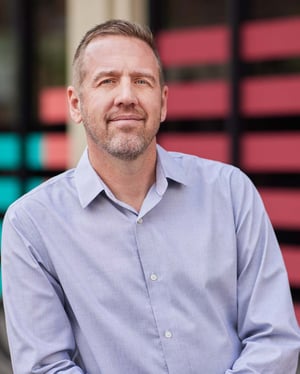 Every All-Star Player has a Coach
Hi, I'm Ryan…
Whether it's in sport or business, all top performers have coaches. And when it comes to hiring, I'll be yours.
Over the past 10+ years I've helped hundreds of America's service businesses hire thousands of people.
When we work together, I'll show you how to implement The Core Fit Hiring System in your business, so you can hire the top tier candidates that every service business wishes they had.

Competitive Advantages are Everything in Business.
Make Hiring Yours.
With The Core Fit Hiring System, your business will always have the people it needs.
What do I get when we work together?
You will receive 90 days of personal training and coaching that will teach you how to implement the Core Fit Hiring system in your business. This includes online training resources, done-with-you services, and private coaching. In short, you get end-to-end training on how to implement the most effective system for hiring service workers.
Do you do the hiring for me?
No. The Core Fit Hiring System has been designed to "teach you how to fish". In other words, it gives you all the skills to hire independently, anytime you need. Not only is this a more effective way to hire, but it's also more affordable too. You'll never have to outsource your hiring needs again.
What kind of results can I expect?
Our clients receive an application rate that is 600% higher than the industry average. We've even had clients fill more than 50 positions in just 90 days. These are the kinds of results you can expect, too. During our first week working together we'll outline your goals to determine the best way to help you achieve them.
How long is the program?
The implementation of the program lasts 90 days. But you'll experience an increase in applications within just two weeks of starting the program! Once you have completed the 90-day implementation program, you'll continue to have access to our training site for one year.
How do we meet?
All of our coaching sessions are online using the Zoom video platform. Training resources and materials are easily accessible on-demand through our client coaching portal.
How much does the program cost?
I'm busy running my business, how am I meant to find the time to learn this program?
We know how time-consuming running a service business can be. That's why we have designed The Core Fit Hiring System to fit naturally as a part of your operations and busy schedule. In fact, once learned, the program will actually save you time by making interviewing, screening and hiring far more efficient.